The Definitive Fashion Guide for a Maternity Shoot
Pregnancy is one of the most beautiful and exciting times in a woman's life. Maternity photos are a great way to capture the excitement and anticipation of becoming parents, and of course, that precious baby bump! These may be some of the most intimate and beautiful photos you ever take, so having a great outfit is important. Many women have a hard time deciding what to wear for photo shoots when they aren't pregnant, but when you combine changing hormones and feeling like a large sea creature (ugh, kankles), selecting an outfit for your maternity photos can prove to be especially stressful. However, we have a few outfit tips that will help you feel and look your best for your photos.
Choose solid colors. We want the star of your photos to be that beautiful baby bump. Patterns or prints can be distracting and take away from the bump. Also, certain prints or patterns can date a picture. You will look back and cherish these pictures for years to come, so we want to make sure it is a timeless photo.  If you feel like solid colors are boring, try adding some fun accessories like a flower crown, a colorful belt, or some cute shoes. This is also a great idea because it can change the way an outfit looks without having to "change" clothes.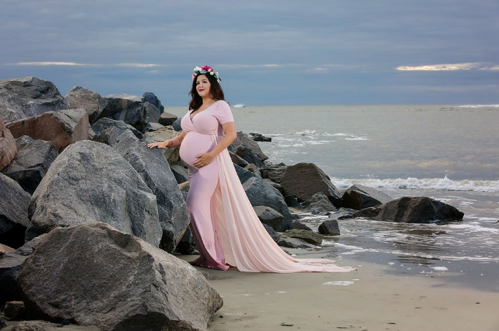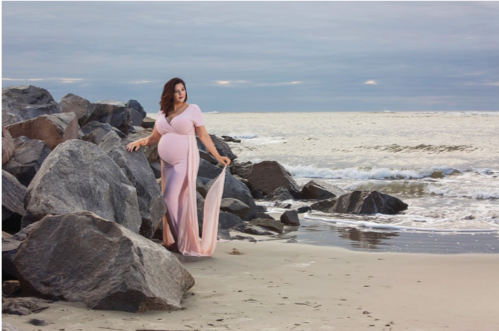 This momma brought a flower crown to wear in some of her pictures to add a little fun and color to and change the look of her outfit.
Fitted clothes are better. We know, we know. The thought of wearing tight fitted clothing might not sound appealing when pregnant; but again, it is a great way to show off the bump. A fitted dress or shirt is also great for photos because it allows you more posing options. While flowy dresses are beautiful, it can make you appear larger than you are, and it can also limit your posing options. If you do not have your hand under your belly in every photo it may be hard to tell that you are pregnant.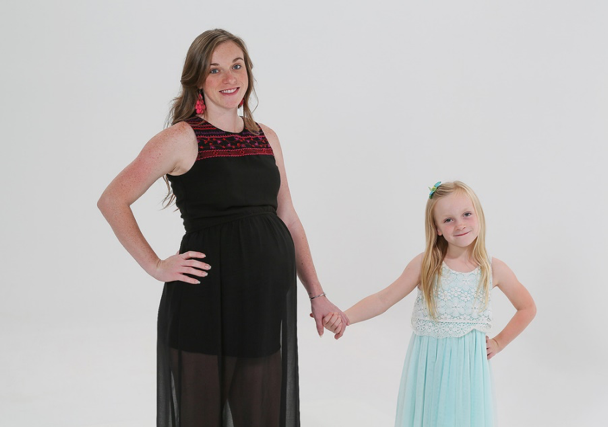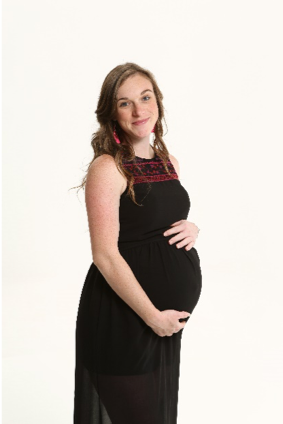 While this momma is gorgeous, it is difficult to see her baby bump in this dress. We had to have her hug her belly with her hand to accentuate her bump.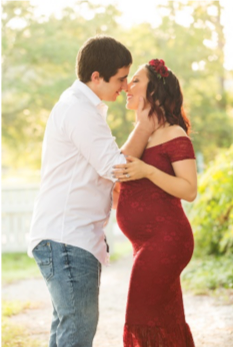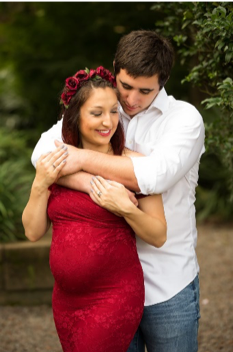 This is a great example of a fitted dress. This momma was able to do a variety of poses and still show off her bump.
Make sure you are comfortable. Being comfortable in your outfit is just as important as looking beautiful. You are more likely to have a genuine smile or expression if you are not uncomfortable. Bring a pair of comfortable shoes with you, especially if you are doing an on-location session. If you are wearing a maxi dress, the shoes can be covered by the dress. If you want a few pictures with cute shoes, bring those along and wear them just for the few pictures.
This momma made sure she had some comfy shoes on during her shoot and we were able to cover them with her dress.
Consider the setting and style of your photos. You want to make sure your outfit is appropriate for the location where you will be taking photos. If you plan to have your session at the beach, soft pastel colors are ideal. If you want something on the fancier side, try taking your photos downtown. Another great idea is to keep it casual and have photos taken in your home. A cozy sweater and some leggings would be perfect for that setting.
This momma wanted a more casual look for her photos in our studio, so she wore jeans and a t-shirt and added a fun pop of color with the ribbon.
Rent your dress.Maternity clothes can be expensive, especially gowns for photo shoots. A great budget friendly idea is to rent your dress. Because let's be honest. You are probably not going to wear this dress very often, so why spend a fortune on it? We have had clients work with Mama Bump Rentals in the past and have had great experiences!
All these dresses were rented from Mama Bump Rentals. They have a great selection and are easy to work with.
Don't forget your partner.While focusing on finding your perfect outfit it can be easy to forget your partner's outfit until the last minute. Just like you made sure your outfit was appropriate for the setting and style of your pictures, you want to make sure your partner's is as well. If you are in a beautiful gown downtown and your partner is in jeans and a v-neck t-shirt your photo will not look cohesive. We recommend having them also dress in solid colors, because again, the star of these photos is your adorable bump!
The first couple was going for a more casual, beachy feel for their photos, while the second couple was looking for a fancier vibe to their photos. Both dads (and moms) are dressed appropriately for their setting and style of the pictures.